This book features ten true stories of courageous African American high school and college students who were the young heroes of the civil rights movement in the Deep South in the 1950s and 1960s. This crusade was powered by black youths who displayed unwavering dedication, commitment and determination. Their bravery in the face of adversity—when they were beaten and bloodied during peaceful demonstrations—left a profound impression on the nation and the world. Through their nonviolent tactics, they were able to frustrate their vicious foes and bring attention to racial inequality, leading to federal laws that banned discrimination. They are the real heroes, the unsung heroes, the young heroes.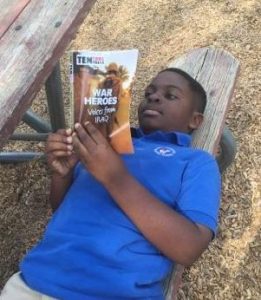 Any teacher who has a Scholastic account can order books for you on scholastic.com or by calling 800-SCHOLASTIC and asking for item number 978-0-545-76974-7.
Each book in the Ten True Tales series features ten exciting stories based on true events ripped from the headlines or taken from little-known moments in history. Most of the stories in this gripping series reveal, in dramatic fashion, kids, first responders, regular people and soldiers caught in extraordinary situations—often with their very lives in extreme danger.