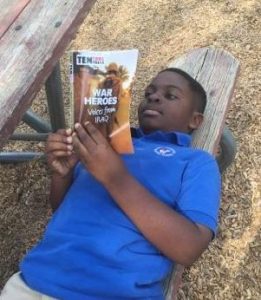 During World War II, everyday citizens fought for our country to protect and preserve the values that made America great. Many of them found incredible courage they didn't know they had in firefights in the bombed-out fields of France, in dogfights over the flak-filled skies of Belgium, and in hand-to-hand combat on the bloody beaches of Okinawa.
Among the heroes, you'll read about the colonel who led his Rangers up a 100-foot-high cliff while the Nazis were firing down on them… the teenage Marine who dived on two exploding grenades to save his fellow soldiers — and lived… the airman who was blinded and wounded from an attack by German planes yet helped save the crew of his crippled bomber.
Each book in the Ten True Tales series features ten exciting stories based on true events ripped from the headlines or taken from little-known moments in history. Most of the stories in this gripping series reveal, in dramatic fashion, kids, first responders, regular people and soldiers caught in extraordinary situations—often with their very lives in extreme danger.
You can purchase this book from:
Amazon.com (paperback edition)
Amazon.com (Kindle edition)
BarnesandNoble.com (paperback edition)
BarnesandNoble.com (NOOK book edition)
Any teacher who has a Scholastic account can order books for you on scholastic.com or by calling 800-SCHOLASTIC and asking for item number 978-0-439-93405-3.