World War 1—or the Great War, as it was known back then—turned into one of the largest and deadliest conflicts in all of human history.
More than 70 million military personnel fought in Europe from July 28, 1914, to November 11, 1918, resulting in the deaths of 9.7 million combatants and 6.8 million civilians. More than 20 million combatants were wounded. Of the nearly 5 million Americans who served in the war, 116,708 were killed and 205,690 were wounded in action.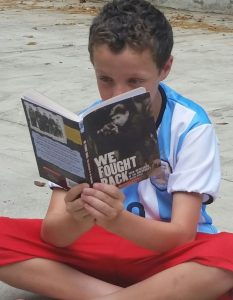 Most of those who fought for our country in World War I were everyday citizens who felt duty-bound to protect and preserve the values that make America great. An untold number of them found deep within themselves incredible courage that they didn't know they had. In the bombed-out fields of Flanders, in dogfights over the flak-filled skies of Verdun, and in hand-to-hand combat in the Argonne Woods, Americans discovered an intense bravery that spurred them to reach far beyond their personal limits. They became the valiant heroes of World War I.
Each book in the Ten True Tales series features ten exciting stories based on true events ripped from the headlines or taken from little-known moments in history. Most of the stories in this gripping series reveal, in dramatic fashion, kids, first responders, regular people and soldiers caught in extraordinary situations—often with their very lives in extreme danger.
Any teacher who has a Scholastic account can order books for you on scholastic.com or by calling 800-SCHOLASTIC and asking for item number 978-0-545-67533-8.