An estimated 1.6 million members of the Army, Navy, Air Force and Marines experienced or were exposed to combat at some point in the 1960s and 1970s in Vietnam — a hostile country half way around the world. There's a great story about every person who served in this war. Because it's not possible to write about each one, Allan Zullo chose to highlight the stories of ten heroes — soldiers, Marines and airmen who received the Medal of Honor for their daring actions in Vietnam.
The medal is America's highest military honor and is awarded by the President of the United States for personal acts of valor above and beyond the call of duty and at the risk of one's life.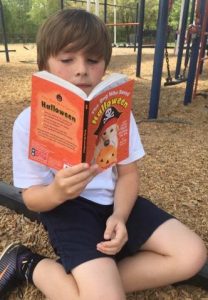 In this book, you'll read such true stories as how 28 soldiers — all but five badly wounded or dead in the first few minutes of a devastating ambush —fended off 200 North Vietnamese soldiers… and how a gutsy medical helicopter pilot repeatedly flew into a fog-shrouded outpost that was under merciless attack to rescue dozens of wounded Americans.
Each book in the Ten True Tales series features ten exciting stories based on true events ripped from the headlines or taken from little-known moments in history. Most of the stories in this gripping series reveal, in dramatic fashion, kids, first responders, regular people and soldiers caught in extraordinary situations — often with their very lives in extreme danger.
You can purchase this book from:
Amazon.com (available in paperback and Kindle editions)
BarnesandNoble.com (available in paperback and NOOK Book editions)
Any teacher who has a Scholastic account can order books for you on scholastic.com or by calling 800-SCHOLASTIC and asking for item number 978-0-545-61230-2.