No maritime disaster in modern history has captivated the public's imagination more than the sinking of the RMS Titanic. On April 10, 1912, the majestic steamship set off on her maiden voyage from Southampton, England, bound for New York City with 2,208 passengers and crewmembers onboard. She stopped in Cherbourg, France, and Queensland, Ireland, before heading out into the Atlantic. Four days into the crossing, at 11:40 p.m., the ship struck an iceberg. Less than three hours later — at 2:20 a.m., April 15 – she sank, taking the lives of an estimated 1,502 passengers and crew members. Only 706 people were saved – including 81 children.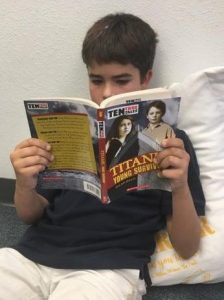 This book features ten true stories that reflect what happened on that terrible night as seen through the eyes of children. Each had their own unique experience, depending on the class (first, second or third) and the lifeboat they were in. Two teenage survivors never even made it into a lifeboat. Jack Thayer, the youngest person to leap into the frigid water and live, clung to an overturned sinking lifeboat throughout the bitterly cold night. So did John Collins, the youngest crewmember to survive, after he was swept off the Titanic while trying to save the life of an infant.
Each book in the Ten True Tales series features ten exciting stories based on true events ripped from the headlines or taken from little-known moments in history. Most of the stories in this gripping series reveal, in dramatic fashion, kids, first responders, regular people and soldiers caught in extraordinary situations—often with their very lives in extreme danger.
Purchase this book from:
Amazon.com (paperback edition)
Amazon.com (Kindle edition)
BarnesandNoble.com (paperback and NOOK Book editions)
Any teacher who has a Scholastic account can order books for you on scholastic.com or by calling 800-SCHOLASTIC and asking for item number 978-0-545-33315-3.