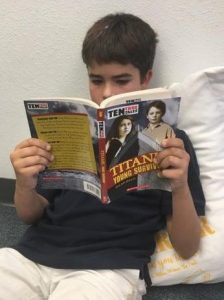 From the late 1600s to the early 1800s, piracy thrived on the world's oceans. Pirate ships were manned by penniless, desperate sailors who once served on merchant vessels and warships… cold-blooded thugs who were mad at the world… crewmen who were forced to join at gunpoint… and some pirates who were kids.
Each of the young people featured in this book sailed with a notorious pirate such as the feared Blackbeard, Black Sam Bellamy or Captain Kidd. Some of these kids fought side-by-side with the pirates while other kids tried to escape. Some were brought to trial while others escaped scot-free. They all had one thing in common. They led perilous lives.
Each book in the Ten True Tales series features ten exciting stories based on true events ripped from the headlines or taken from little-known moments in history. Most of the stories in this gripping series reveal, in dramatic fashion, kids, first responders, regular people and soldiers caught in extraordinary situations—often with their very lives in extreme danger.
Any teacher who has a Scholastic account can order books for you on scholastic.com or by calling 800-SCHOLASTIC and asking for item number 978-0-439-91813-8.