Hurricane Katrina was the most catastrophic natural disaster in United States history.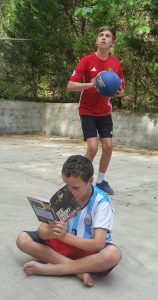 The devastation was staggering: After Katrina slammed into the Gulf coast of Louisiana, Mississippi and Alabama on August 29, 2005, it claimed more than 1,800 lives, ravaged entire beachside towns, drowned much of New Orleans, destroyed or made uninhabitable 300,000 homes, and left hundreds of thousands of victims homeless.
However, in the midst of this staggering disaster, an untold number of heroes emerged from all walks of life. In this book, you will read the dramatic accounts of heroes who gave their all to save others: a clever Boy Scout who kept his family from drowning, dedicated Coast Guardsmen who conducted dangerous rescues, a cool-headed police chief who led a group through a watery escape, a gutsy animal lover who saved more than 1,000 stranded pets, gritty medical volunteers who worked under appalling conditions to keep patients alive, a stubborn radio personality who risked his life to broadcast life-saving information and brave flood victims-turned-rescuers who overcame unbelievable challenges.
Purchase this book from:
Any teacher who has a Scholastic account can order books for you on scholastic.com or by calling 800-SCHOLASTIC and asking for item number 978-0-545-83123-9.
Each book in the Ten True Tales series features ten exciting stories based on true events ripped from the headlines or taken from little-known moments in history. Most of the stories in this gripping series reveal, in dramatic fashion, kids, first responders, regular people and soldiers caught in extraordinary situations—often with their very lives in extreme danger.