This book features ten compelling stories about special agents who cracked difficult cases — from mass murder on the high seas to the kidnapping of a newborn baby, from the theft of priceless rocks from the moon to the capture of the country's most elusive bank robber.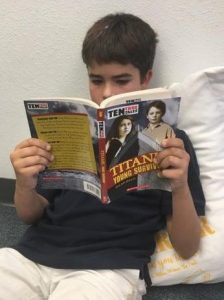 In personal, lengthy interviews with Allan Zullo, these agents recalled their sometimes frustrating but ultimately successful investigations that led to the arrest and conviction of dangerous criminals. The stories, which are supported by court documents and law enforcement records, are written from the point of view of the chief investigators as they collect clues and follow leads until the cases are solved. Once you begin reading the stories in this book, you will understand why these remarkable men and women live up to the Bureau's motto: "Fidelity, Bravery and Integrity."
Purchase this book from:
Any teacher who has a Scholastic account can order books for you on scholastic.com or by calling 800-SCHOLASTIC and asking for item number 978-0-545-46040-8.
Each book in the Ten True Tales series features ten exciting stories based on true events ripped from the headlines or taken from little-known moments in history. Most of the stories in this gripping series reveal, in dramatic fashion, kids, first responders, regular people and soldiers caught in extraordinary situations—often with their very lives in extreme danger.