This book features ten incredible true stories of what young refugees endured when, through no fault of their own, they were torn from their homes by genocide—the deliberate mass killing of a large ethnic group—or war and had to flee their country. They were unable to return to their homeland because of violence, so their lives were put on hold—in some cases for years—while they held onto the uncertain hope for a better life.
They found that better life. They no longer suffer from the horrors of their childhoods because they are settled in the United States, leading happy, productive lives. They are proof positive of why America is the greatest nation on earth. Their stories are based exclusively on personal, lengthy interviews with the author. Using real names, dates and places, the stories are written as factual and truthful versions of the refugees' recollections.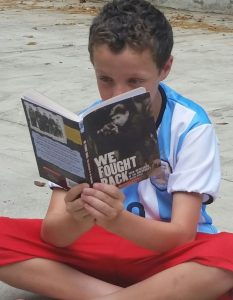 The book features stories of young refugees from Syria, Iraq, Burma (also known as Myanmar), Bosnia, Somalia, Liberia, the Democratic Republic of Congo, Rwanda, Cambodia and Vietnam. Among the refugees you will get to know are:
– Nam Vo, a Vietnamese boy who was crammed with his parents, three siblings and 40 other refugees aboard an overcrowded rickety fishing boat in the South China Sea. After days of eluding pirates and navy gunships, their boat was caught in a vicious typhoon. Fearing the worst, his father told the family, "At least we will die together. If we stayed in Vietnam, we would all die another way."
– Eh Kaw Htoo, a boy from Burma. Along with his family, he was constantly on the run, dodging bullets and mortar rounds fired by soldiers of a brutal military dictatorship bent on wiping out all trace of his people, known as the Karen. For the first seven years of his life, he never lived in any one place for more than a few months because marauding troops burned down whatever temporary bamboo shelters his family had built.
– Judith Mandevu, a Congolese teenage girl. When rebels attacked her village, she and her family fled and reached a refugee camp in nearby Burundi. But the rebels charged into the camp and slaughtered 166 people, including her mother and brother—and then forced her to watch as they burned her father alive.
– Mustafa Aldouri, a Muslim teenager, who on his way to school, was seized in Baghdad, Iraq, by a kidnapping gang, one of hundreds collecting ransom from families and funneling the money to terrorist groups. He was tortured for nine days while his frantic parents tried to raise the money to free him.
All ten refugees featured in this book are now American citizens. Eh Kaw is the married father of four and manufactures airplane parts in Georgia; Judith, married mother of four, is a nurse's assistant in New York; Mustafa is a refugee resettlement counselor in New Jersey; and Nam, the married father of three, is a board-certified nephrologist (kidney specialist) in North Carolina.
Purchase this book from the Scholastic Teachers Store.
Any teacher who has a Scholastic account can order books for you at scholastic.com or by calling 800-SCHOLASTIC and asking for item number 978-1-338-08811-3.
Each book in the Ten True Tales series features ten exciting stories based on true events ripped from the headlines or taken from little-known moments in history. Most of the stories in this gripping series reveal, in dramatic fashion, kids, first responders, regular people and soldiers caught in extraordinary situations — often with their very lives in extreme danger.