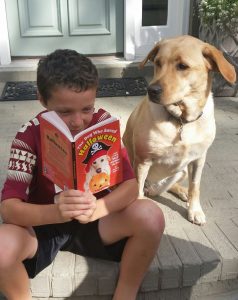 This book features stories of dogs, cats, birds and a horse who turned Halloween into a holiday to remember. These stories are loosely based on, or inspired by, true-life events.
Some of the accounts spotlight the mischievous and naughty side of the animal kingdom, like the ghostly cat that spooked the residents of an apartment building or the owl that didn't like trick-or-treaters making fun of it. Other stories celebrate heartwarming moments that illustrate the animals' loving and devoted natures like the dog who saved Halloween or the parrot who brought two lovebirds together. All of these stories are reminders of how these remarkable creatures have helped make Halloween one of the most enjoyable times of the year.
Any teacher who has a Scholastic account can order books for you on scholastic.com or by calling 800-SCHOLASTIC and asking for item number 978-0-545-76975-4.