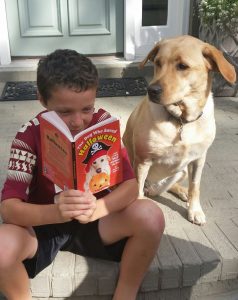 Kids and grownups aren't the only ones who make holiday memories. Pets do too. You will read true stories of dogs, cats, birds and other animals who turned the holidays into a season never to be forgotten. Some of the accounts in this book spotlight the mischievous and naughty side of family pets. Other stories feature heartwarming moments that illustrate the animals' loving natures.
For example: Months after being adopted from an animal shelter by a family, a Labrador retriever saved a mom's life on Christmas Eve… A missing cat miraculously found her way home for the holidays… A reindeer given as a Christmas gift hitched a ride inside a British submarine during World War II.
Any teacher who has a Scholastic account can order books for you on scholastic.com or by calling 800-SCHOLASTIC and asking for item number 978-0-545-04643-5.